Mystery Dessicated Alien Head found in Derbyshire Garden.
Scientists Baffled
Click here for some atmospheric music . . .
Conventional Picture
Below are the stereograms.
Red - Green
(Red over the left eye)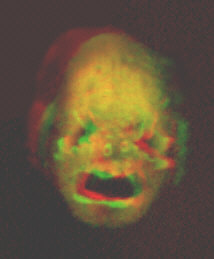 Red - Green Stereogram.
For this, you will need those red and green specs that you can get from a Cornflakes Packet or 3D books on dinosaurs or scanning electron microscope pictures of insects.
Colour Stereograms
(Best viewed if you take off your glasses and
then focus on the screen - crossing or relaxing your
eyes so that the images coincide)
| | |
| --- | --- |
| | |
| | |
| --- | --- |
| | |