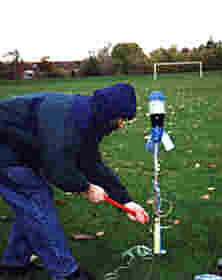 Pumping up the pressure. Note the waterproof jacket and the foot on the release string with a good yard or so of slack - the first time I did this, the kids thought that it would be a good idea to release the rocket before I had finisherd pumping.

All of the pockets are zipped up, the velcro is tight on the storm cuffs, the hood is done up tightly, and so on. Taking this type of precation means that you stand a better chance of keeping dry - never a bad thing.

In this photograph, you can clearly see the shape of the plastic fins. They are taped around the edge with gaffer tape with the fold in the plastic on the leading edge.

The water has a dye in it to make it easier to see on photographs.