Rockets
Real Water Rockets
This site details the building and launching of various water rockets between 250ml and 12 litres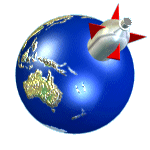 - simple home rockets to a Science Olympiad rocket and beyond.
Remember, if you are going to launch something big, make sure that it will not do any harm wherever it lands.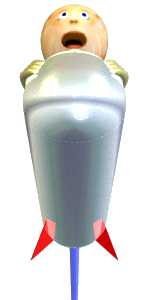 And . . .
Never go near to or touch a rocket that is about to launch.
The pages are in an order such that if you start with the first, and work your way through, you will discover for yourself the thrill of the launch without spending too much to get to each stage. The first two are not particularly pretty rockets and they are not even very aerodynamic (the fins are designed to be built easily, made from materials that you will already have, withstand a large number of impacts and, due to their flexible nature, have a lower drag factor at higher velocities) but they do allow you to familiarise yourself with the basics - shaping the body, joining two bottles together, adding nose cones with parachutes, better fins and so on is something that can be done at a later date. Enough of the sentimental stuff and on with the real thing. . .