Training for the install on DOS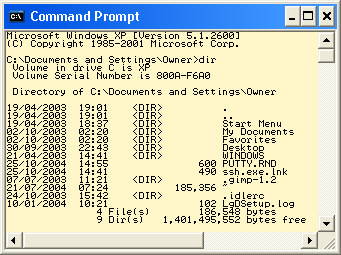 If you are not particularly familiar with the command line, now is your chance to have a go ... whilst still in Windows.
Click on start and then look somewhere like All Programs > Accessories > Command Prompt. It can vary according to how you have your system configured. Another way is to click on Start and then Run. In the combo box, type 'command' (no quotes) and the command prompt will open up.
With the command prompt now running (you will realise that Windows XP is really just a very complicated and slow command shell) you can type in commands that will allow you to navigate the file system and manipulate files and directories.
Your command prompt will probably be something along the lines of...
C:\Documents and Settings\Owner >
If you type
dir
you will get a listing like the one above. You can see the date and time that a file was list written to , whether it is a file or a directory, how big it is if it is a file and the long name of the file or directory. At the top of the listing, you can see the name of the volume (partition in this case - here called 'XP') along with its serial number and the path for the directory (C:\Documents and Settings\Owner). At the bottom of the listing are the total numbers of files and directories.
If we want to make one of these directories current, we need to type CD ('change directory' or [make] 'current directory' depending upon whom you ask) and then the name of the directory we want to go to. For example, if we want to go to the 'Start Menu' directory, we type...
cd Start Menu
Note that in DOS, the case of the letters does not matter so CD, cD, Cd and cd are all equivalent as are similar variants of the directories you want to visit.
Another way of going to the Start Menu directory is to type
cd C:\Documents and Settings\Owner\Start Menu
This way is using an absolute path (right from the beginning) whereas the first way was a relative path. You can see that there is a lot more typing involved however, this is the only way so far, that we have of getting back to the Owner subdirectory. You will notice in the screenshot above that there are two directories apparently with the names '.' and '..'. If you type
cd ..
you get back to C:\Documents and Settings\Owner - effectively we were CDing to the directory above (which is what '..' is). However, supposing you were in C:\Documents and Settings\Owner\Start Menu and wanted to go directly to the Windows directory. Now that we know how to go up a level and also down a level, we can combine the two so, if we are in C:\Documents and Settings\Owner\Start Menu, we can type...
CD ..\Windows
and we can get there in one step.
If you now press the up arrow key, you will see that all of the commands that you have typed in so far (this goes on up to a limit) will appear - this can save you typing as you can edit these and just press enter.
So much for moving around. We can also create, copy and delete files and create and delete directories.
In C:\Documents and Settings\Owner, type
md test
If you type dir now, you will see that we have created a directory called 'test'. If we CD to it ('cd test') and then get a listing ('dir'), you will see that it already contains two files, '.' and '..'. Again, you can use cd .. to get to the next level up but don't do that just yet as we are going to create a file. Type...
dir > dirlst.txt
This is the same dir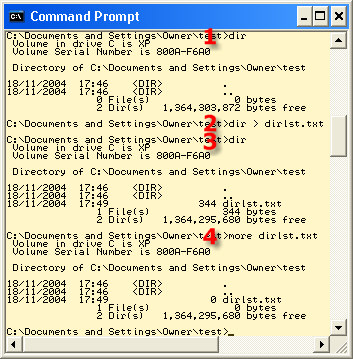 command as before but instead of seeing the output listing on the screen (the standard output or 'STDOUT'), we are 'redirecting' it to a file that we are creating called 'dirlst.txt' by using the greater-than sign to indicate that the output of the dir command should form the input of the file dirlst.txt. If we then type
more dirlst.txt
you will see the contents of the file (if this looks confusing, look at how large the drlst.txt file is). This command calls a program called 'more' and passes the string 'dirlst.txt' to it which it then interprets as a file name which it then opens and displays the contents of on the screen.
You can see in the screenshot on the right these steps...
dir - gives the directory listing on the screen.
dir > dirlst.txt - redirects the listing to a file.
dir - now shows the new file we have created (344 bytes).
more dirlst.txt - shows the contents of the file including our zero-length file.
We can now copy the file to a new location (or file name) by typing...
copy dirlst.txt dirlst2.txt
If you dir the directory again, you will see that this new file has been created and if you more it, you will see that it is the same. There are many other ways of creating files so let us delete this one. Type...
del dirlst.txt
and if we now dir the directory, we see that it has disappeared, leaving just the new file and '.' and '..'.
If we now cd up a level ('cd ..'), and type
rmdir test
we cannot delete the directory because there is still a file in it. So, let us type
del test\dirlst2.txt
If we type
dir test
we can see that the directory is empty now. Next type
rmdir test
and the directory is deleted. Check this by entering dir again.
So, we have navigated around directories using relative and absolute paths. We have looked at the contents of directories when we have been in them and from elsewhere. We have created, looked at, copied and deleted a file and we have deleted the directory again. Whilst this might seem a little basic, what you will need to do for OpenBSD is not more complicated and the commands are similar. Instead of using a backslash ('\'), we use a normal slash ('/' which, unlike the BBC's curious preference, is simply called a 'slash'), to list a directory, you type 'ls' instead of 'dir', and instead of 'copy' we use 'cp'.
You can learn more about the commands and get some valuable experience by installing SuSE Linux (not the Personal Edition as there are problems with root access restrictions and gaining enough experience as root) and playing around with that. I suggest SuSE Linux because it is one of the UNIX-like operating systems, the commands are pretty much the same and the installation is as easy (although a few times quicker) than Windows XP. Also, you will get a feel for the reliability and stability of the system.
When you are in one of the Unices, you can find out a lot about the function you want to use (what it does and how to do it) by referring to the manual. Instead of using a several foot thickness of paper with all of the environmental impact that would imply, they are all online. You can literally type...
man ls
to find out more about the list command. If a command is mentioned in several sections of the manual, you will need to specify which manual to look in. In the OpenBSD documentation, the manual section is always included after the command so you will see ls mentioned as ls(1). You can do this as follows...
man 1 ls
In addition to this, you can find the man pages for ls online on the Internet at http://rootr.net/man/man/ls/1 and you can search for any other command as well. In fact, if you type 'openbsd man ls' (no quotes) into google, you will see that there are many such sites.