Linux window decorations and other interface features
KDE (which runs on various flavours of UNIX, Linux and the BSDs) is particularly flexible in the way that it interfaces with the user. It can be made to have much of the look and feel of various types of Windows and Mac interfaces. However, where in Windows, you change between various GUI styles (in XP, that's blue, green and silver or over to the processor lighter Windows 98 look), there are actually two parts to the interface that are quite easy to confuse.
First of all, there are the window decorations (the title bar with its label, icon and buttons and the borders - effectively the 'bits' around the outside) and then there are the other parts of the windows (the form background, buttons and other objects and so on). In Windows, they are separate and if you have had the right type of crash in Windows XP, you will have seen either that the window decorations fail but the rest of the system keeps on working or, that the program crashes and the window decorations keep on working. These two types of crash are the only time that you might think that the two are separate.
In KDE and other UNIX-like-environment GUIs, you will see that they are separate and that you can change them independently of each other.
So, let's go through some of the different aspects of the GUI and see how we can change them and what we can do with them.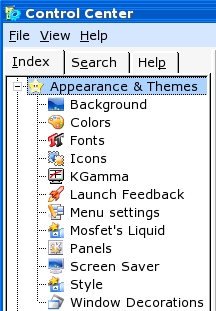 First of all, fire up control centre and click on 'Appearance & Themes'.

Here, you will find many different sets of options that you can play around with - if giving Windows 95 users the choice of changing colours and fonts for that interface wasted millions of man-hours, this is going for the record.

The ones that we are primarily concerned with here are:
Window Decorations;
Style;
Colours;
Panels;
Icons;
Fonts; and,
Backgrounds.
Window Decorations
Selection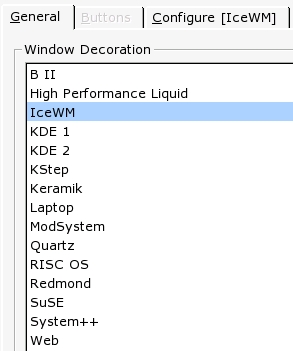 Under Window Decoration, you will get a list similar to that on the right (under the 'General' tab).
You can select one and either see a preview of it or, failing that, click on the 'Apply' button in the bottom right hand corner.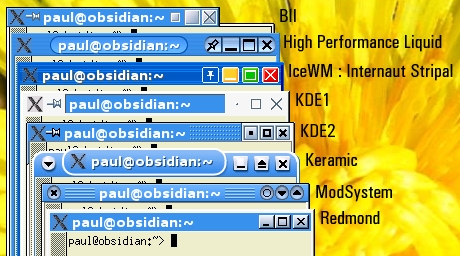 This is a composite (it would have to be) of some of the window decorations that are available.

You can see that the close button is (in these cases at least) always a cross and the minimize and maximize buttons always indicate their meaning.

You will also notice that there is another button (apart from the menu button) that looks like a notice board pin or a circle (usually). This is the sticky (or depth) button and it is a toggle (that is to say that click on it once and it turns on: click on it again to turn it off). This button allows a window to appear on all of the desktops simultaneously which, as you get used to the idea that a GUI need not be claustrophobic, might well become increasingly useful (depending upon what sort of work you are doing).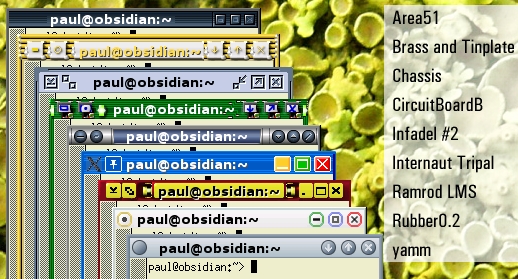 The Ice Window Manager (IceWM) is a proper window manager in its own right but SUSE (and probably others as well) allow it to be part of KDE.

You can download IceWM themes or write your own (see HelpDesk in issue 208 for more details on how to make your own) and use them on your system.

If you want a Windows XP version, you can either find one to download or take screen shots (one with an active window and one with an inactive window) and make your own XP theme from that.
Aqua and Button Positions

If you select a theme that looks a little like the Mac OS X Aqua interface (say you are upgrading from the Macintosh proprietary environment and want your user population to feel reasonably at home), you will undoubtedly use the IceWM: Aqua theme or something similar. You will, however, notice that the buttons are in the wrong places. This is quite easy to solve...
At the bottom of the General tab sheet, you have some general options. If you click on 'Use custom titlebar button positions', you will be able to use the 'Buttons' tab.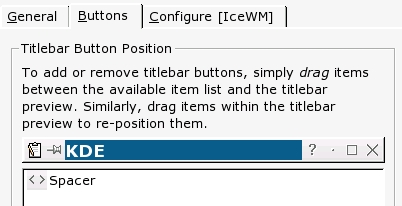 Under the 'Buttons' tab, you can now drag and drop the titlebar buttons to where you want them.

In this screenshot, from left to right they are: menu; depth/sticky; help; minimize; maximize; and, close.
To change them around, all you need to do is to drag and drop them.

Here, I've made the order: close; minimize; maximize; sticky; and, on the right: 'menu'.

Of course, on Mac's Aqua interface, there is no sticky button because there is only one desktop. However, on the Aqua interface the buttons are red, yellow and green so it seems obvious to have a blue one to make a pretty rainbow (of sorts).

And, here it is: red for close; yellow for minimize; green for maximize; and, blue for sticky. A lot prettier than the Aqua interface.
Double-clicking on the title bar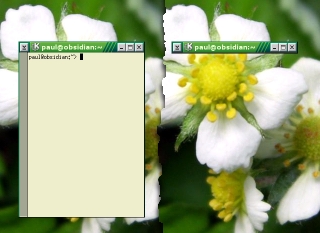 One difference between Windows and KDE is what happens if you double-click on the title bar. In Windows, the window will maximize but in KDE, it will shade. You can see from the two screenshots on the right that this is like grabbing hold of the bottom edge and dragging it all of the way up to the title bar in Windows. However, this is better than that in that if you double-click on it again, it goes back to its original size.
However, if your user population uses the titlebar-double-click to maximize their windows, you can reconfigure this...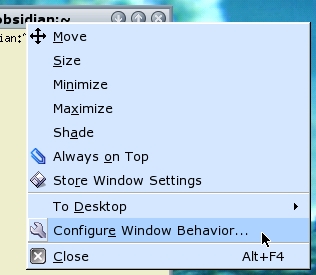 Right-click on the titlebar and you will get a menu similar to this.

Click on 'Configure Window Behaviour...'.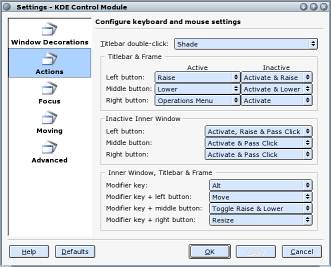 You will now get a form like this one - you can see that this is a lot more configurable than Windows. The Windows decorations dialogue is the form that we have already used to select a windows decoration but we want 'Actions'.

At the top, there is the 'Titlebar double-click:' dropdown box.

Click on that and you will get a choice similar to that on the right. To change to maximize, select maximize and when you click on 'Apply' or 'OK', the behaviour will be the same as in Windows.
More...
One other useful feature is border-snapping. On KDE, the default action is that when you are moving a window around the desktop, when it gets within a certain range of another window or the edge of the screen, it will move itself up to that edge. This makes placing windows on the screen very easy as you don't end up with them overlapping or with gaps in between them - you end up with the most efficient use of your desktop.
You can change the snapping distance (how close to another window you need to get for this effect to occur) on the 'Moving' panel.
Style
The style is the other part of the window - the inside. In Windows XP with the blue borders, the style is analogous to the pale yellow bit inside.
In Control Center, under 'Appearance & Themes', select 'Style'. On the right, you can see a screen shot of the panel you will get (or something close to it as KDE evolves).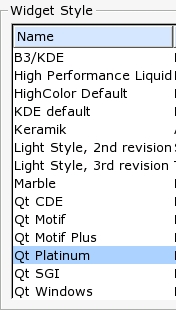 In the 'Widget Style' list box, you can see a list of all of the styles that you can choose from.

There are quite a few and if you are trying to get an interface that is fairly close to the one that your user population is used to, you should be able to achieve this.

Here are some of the different choices that you have...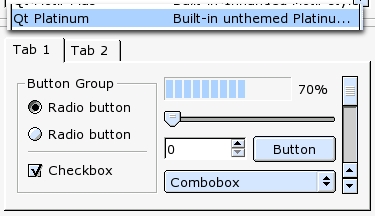 As you look down the column of different styles on the right, one thing that you will notice is that the controls all look pretty much the same as each other.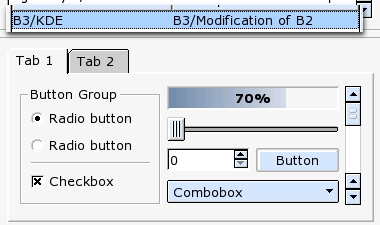 The sliders all have a track of some sort with a button or knob on it; The radio buttons all have the same general appearance as each other as do the check boxes.
The end users can see how these work on these interfaces just as easily as they can see them on Mac OS X or on Windows - there is no effective difference.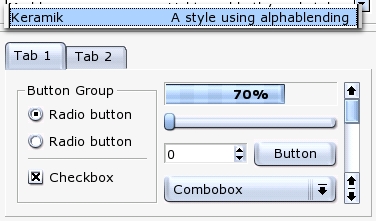 Users who are new to computers take just as long to get used to the KDE interfaces as they do to get used to the proprietary ones.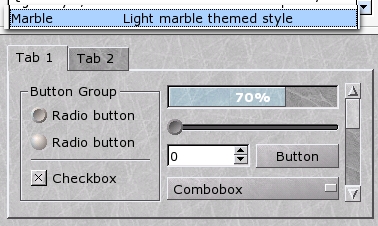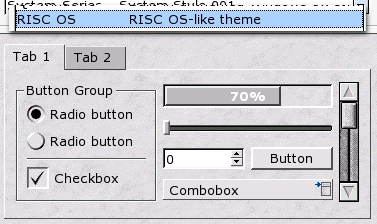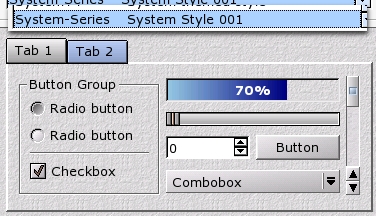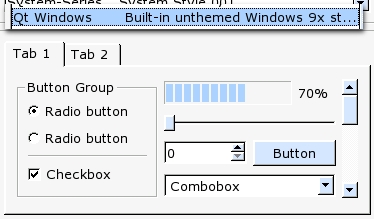 This penultimate example down the right hand side is Qt Windows which is a fairly good representation of a Windows 95/98 interface.
This last example is Mosfet's aqua interface which should satisfy those nervous about upgrading from a Mac environment.
If you think that that lot is all rather blue, carry on reading...
Colours
You can, of course, change the colours with KDE (as you can with any of the interfaces).
There are already a number of colour schemes installed and there is nothing to stop you from coming up with your own.
If you select part of the scheme using either the dropdown combo on the right (here, saying; 'Standard Background') and then click on the elongated button below it, a colour selector will appear.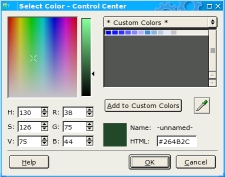 Just choose a colour in the usual way and click on 'OK'.

You can take a screenshot or use an image and then use the colour picker to take a sample of any specific colour you need.
Panels
If you choose 'Desktop', 'Panels' (under different versions of KDE, this might be in a different place but basically, you want a screen similar to the one on the right), you see the options for the panels. The panels are the equivalent of the 'TaskBar' in Windows. However, they are far more flexible and can also be transparent.
For one thing, you can have more than one of them and their positioning is more flexible as well. You can also mix them with other types of panel such as an external taskbar.
From left to right: KMenu; SuSE work menu; documents directory; code editor, image editor, text editor, command shell, file manager; browser; email program; system monitor (CPU usage, physical memory, swap space), pager (display of what is on each desktop); clipboard program; and, clock (if you click on it, you get a calendar). In addition to this one (which goes at the bottom in the middle, I also have two others (one on the left and one on the right) and a taskbar (list of program windows running in the GUI on my account)

Icons
You can also choose sets of icons, download additional sets or even make your own.
They are fairly easy to install and you can download them http://www.kde-look.org/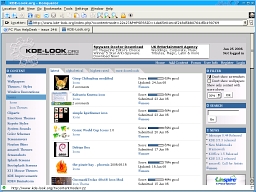 This is KDE Look org's site - there's always plenty going on there.
Fonts
The fonts that you use will change the way that an interface appears to the user.
You can save the Microsoft core fonts for free - the license permits this - if you want to use those fonts.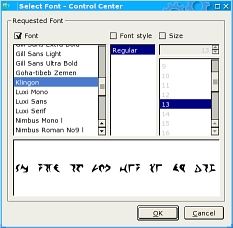 Of course, there is nothing to stop you using a 16th Century Italian Cursive font, Gill Sans Serif, Times or even Klingon (if you have the localisation set for it).

qo'mey poSmoH Hol
(Language opens worlds)
Backgrounds
There are plenty of backgrounds for you to choose from - many on the Internet. If you want something specific, you can usually find it.
The backgrounds (wallpapers) that the proprietary manufacturers produce are usually a bit of a cliché by the time you are looking at migrating away from their operating systems so the thought of infringing some obscure section of a EULA by copying them over shouldn't even enter into your head.
The Background section in Control centre allows you to have a slide show if you want, a different wallpaper on each desktop or a mixture of the two.
Have a play.