Digital Rights Management Rootkit Trojan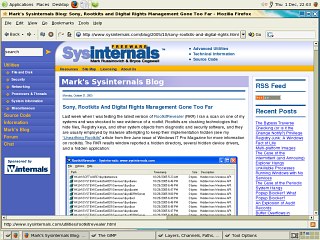 Security presents a steep learning curve for anybody who is not used to the concept. For Digital Rights Management, that curve is pointing downwards. DRM software tries to limit the amount of copying going on from any CD - there are of course legitimate reasons for copying of which backup is one.
The big problem for any software that attempts to find out how many times a CD has been recorded is that the CD itself is read-only. You can put as many programs on there are you like but they can't save anything on the CD itself. This means that if you want to keep this data then you need to save it somewhere and on the user's machine seems to be a logical place.
The problem with using the user's computer to run a program that monitors the system for any copying activity and logs any that is found is that you need to save the files on the system somewhere. Under normal circumstances, you can see the files on the system and then anybody who wants to play unfair can just delete them. So, how can they make it so that people can't see them? They alter the kernel - the heart of the operating system - so that it doesn't display them.
The solution to Sony/Bertelsmann Media Group Music Entertainment's DRM problem that they are using in this case is a software product from First4Internet called 'XCP software'. This installs a kernel mode driver rootkit which patches the kernel service descriptor table making itself invisible. All right if they asked you if they could compromise your kernel in this way, except that they didn't and, to make it worse, the program obfuscates its true identity by having a mundane, system-like file name.
So, there is definitely a problem and like many large companies, Sony BMG initially denied that there was a problem. They said that the XCP rootkit trojan; 'is not malicious and does not compromise security.' In an interview on US national public radio, president of Sony BMG's global digital business division said; 'Most people, I think, don't even know what a rootkit is, so why should they care about it?' Res ipsa loquitor.
The sloppy implementation of this has raised a few eyebrows in the security community, especially as it slows down your computer and makes it less stable. It consumes around two per cent of processor power - polling processes around eight times per second. Another problem is that it is susceptible to race conditions which can bring down Microsoft's megalithic kernel. If that wasn't bad enough, it installs itself in such a way that it even runs when you boot into safemode. This particular version hides files, directories, Registry keys and processes that start with '$SYS$'.
Just when you thought it couldn't get worse than that, if you try to uninstall it by almost any means, you may well lose your CD player drives. Sony has given people an uninstaller but apparently, instead of uninstalling the rootkit, it installs another patch and leaves the system in an even worse condition. They have now withdrawn that.
So, how far has it spread? It is estimated from DNS cache queries that the Sony DRM rootkit trojan has contaminated at least one machine on at least 568,200 networks in 169 countries. and from comments on the Internet, it seems to have done a lot to make people decide to switch to Linux as it also affects Mac OSX systems as well.
With their Windows installations destroyed by the installation and possibly an attempted uninstall of the Sony rootkit trojan, there seems no future and because of the way it has gained access to their machines - being illegal in many places - there is an increasing number of law suits against Sony for this including (currently) at least six class action cases in the US in addition to the State of Texas and the State of California and then there are those in other countries as well.
It gets worse
If you thought that Sony's problems were limited to the XCP software, there is another DRM program in use by Sony - some people reckon that there are four such programs. MediaMax is reckoned to be installed on over 20 million CDs and is also outstandingly bad. This one installs files on the user's computer whether they accept or decline the terms of the End User License Agreement. Like the XCP software, it doesn't include any way for the user to uninstall it.
Wait for it... The software then sends data about the user back to SunnComm via their Internet connection every time they listen to CDs even though the EULA is explicit that the software won't collect personal information. SunnComm's website even says says; 'no information is ever collected about you or your computer.'
In order to obtain an uninstaller for the MediaMax software, users have to request it repeatedly and supply further information about themselves. And, like the XCP uninstaller, security researchers have uncovered the fact that SunnComm's uninstaller opens up more security risks. Even the US-CERT (Computer Emergency Response Team) recommends 'Do not install software from sources that you do not expect to contain software, such as an audio CD'.
As Sony has it interests in many pieces of hardware as well as music, people are starting to ask if this type of pernicious DRM software is already in those other product lines. Only time will tell.