When it comes to securing your data properly, your laptop's drive is where it all happens and where it all should stay. Essentially, you need some serious, bullet-proof disc encryption. BitLocker certainly isn't what we would call serious because it has a number of fundamental flaws:
The encryption and storage happen in two separate places - this allows clear-text key attacks;
The TPM can allow its private key to be copied to an external device - social engineering can lead to this key escaping into the wild;
Bitlocker is also known as Full Volume Encryption - that is to say that it only encrypts one partition at a time on a drive and it needs there to be at least one partition unencrypted for the system to work; and,
The TPM - the special chip - can be attacked in the same way as smart cards.
In fact, there are some other vulnerabilities built in as well. The following is from Microsoft's TechNet site (click here to see the page in a new browser window)...
Clear the TPM

Clearing the TPM cancels the TPM ownership and resets it to factory defaults. This should be done when a TPM-equipped client computer is recycled, or when the TPM owner has lost the TPM owner password. The following procedure steps you through the process of clearing the TPM.

Note: A physical presence is not required to clear the TPM, if you have the TPM owner password.

To perform the following procedure, you must be logged on to a TPM-equipped computer with administrator credentials.

To clear the TPM
Click Start, click All Programs, click Accessories, and then click Run.
Type tpm.msc in the Open box, and then press ENTER. The TPM Management console is displayed.
If the User Account Control dialog box appears, confirm that the action it displays is what you want, and then click Continue. [...]
Caution: Clearing the TPM resets it to factory defaults. You will lose all created keys and any data protected only by those keys.
In the Actions pane, click Clear TPM. If the TPM is turned off, turn on the TPM before clearing it. (The steps to turn on the TPM are provided in Step 1: Turn on the TPM.)
In the Clear the TPM security hardware dialog box, select a method for entering your password and clearing the TPM:

[...]
If you do not know your TPM owner password, click I don't have the TPM owner password, and follow the instructions provided in the dialog box and subsequent BIOS screens to clear the TPM without entering the password.
...so, with a bit of social engineering, the keys can be cleared from a machine that is somewhere else on the planet and therefore the data on the computer is effectively lost - although there is a recovery method that uses a manually keyed in number as a recovery password (anybody thought about manufacturing this situation so that TPM can be overridden - this is what many people would call a backdoor, albeit one with your own individual password).
There are other attacks you can do on chips such as taking them out, using slow clock speeds and measuring the amount of current the chip takes. This can be done with smartcards to extract the keys so there is no reason why any suitable equipment shouldn't be able to do it here.
In addition, even with the best intentions, it is possible to save a vital file on an unencrypted partition, only to be discovered by somebody when you lose the machine.
Finally, with BitLocker, you are locked into using Windows which is often targeted by hackers and not necessarily the best option for you - see 'Choosing an OS' below - you need to consider how your data is stored (ie, the features of the file system used).
If you want flexibility, you will want something that is OS independent - all of the encryption being done by the hard drive itself. That way, you can concentrate on getting a stable and usable OS - the hardware encryption is transparent to the OS and all of the disc is encrypted. In addition to this, you can use a bootloader to boot into two or more operating systems using this and, if the file systems are compatible (eg, Linux and Windows can both read them then they are both accessible).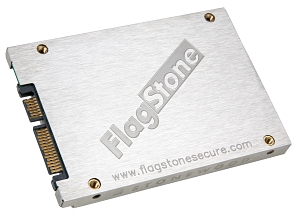 Stonewood Electronics Ltd make a series of hard drives for laptops and desktops. Physically, they are a direct replacement for normal drives but these have a number of special features including a tamper-evident body and true hardware-encryption, -decryption, -key generation and -key management. A 30GB FlagStone laptop drive will set you back around £220.
There are a number of sizes and types and if you were wondering how good they are, they are CESG (Communications Electronics Security Group - HMG), DIPCOG (MoD) and FIPS validated and are in use by the department of defence in Australia, Europe, Canada and the USA. In fact, one of them is so secure that you need permission from the Government to use it.
For high security versions of file/volume/disc encryption, software-based encryption has to be re-keyed every year (this can take up to 12 weeks) but by FlagStone being hardware-based (called the 'Basic'), you can leave it for five years. For the enterprise version, you don't need it to be re-keyed.