Memorable Hex Keys
If you have a number of computers to input WEP keys for, don't want to do anything other than type them in manually (most secure) but don't want to write them down (even more secure) there are ways of producing keys that you can remember. However, you must also remember that by doing so, you can make them a little less secure because they become vulnerable to a modified dictionary attack. Still, here is how to do it if you are interested in trying it out, or are morbidly curious.
Hex digits represent nybbles so, for a 104-bit WEP key, we need 26 values between '0' and 'F'. Choosing randomly produces fairly secure keys but you need to write them down if typing them in manually - pieces of paper get lost or copied.
So, how can we make 26 nibbles more memorable? One solution uses words from existing letters and substitutions - look at the Perl program by clicking here (both a UNIX version and a Windows (.PL) version, together with a dictionary from words consisting of the letters 'oizwhysglpabcdef' that you can play around with. All good operating systems come with Perl by default. For the rest, you can get it from 'ActiveState').
Hex uses the letters 'a' to 'f' which is rather limiting - 77 words including some dodgy ones. If we substitute numbers with letters, we can go further.
Using a '1' as an 'i' and a '0' as an 'o' gives 264 words and, adding a '2' and a '5' as a 'z' and an 's' gives us 871 words.
A '6' looks a little like a 'G' giving 1,185 words but there are still gaps.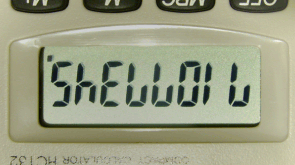 If you type '71077345' into a calculator and invert it (when I did my A-Levels we were about the first year that were allowed to use calculators - no memory or even a per cent button), you get 'SHELLOIL' so we'll use a '7' and a '4' as an 'L' and a 'h' (optionally a 'y'), giving us 3,757 words from which we can make sentences such as; 'diseased dodo seizes cafe food' which translates to 'd15ea5edd0d05e12e5cafef00d'.
Rotating '3' gives a 'w' (we already have an 'E' so making that from a '3' is redundant) and mirroring '9' produces a 'P' giving 6,188 words, leaving just '8' unused - make up your own.
Also included below are possible calculator words...