Password recovery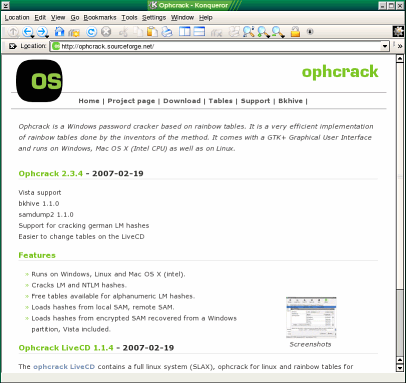 It is quite easy to forget your admin account password and, if you have done everything correctly (apart from remembering the password that is) it is the only account that has any privileges.
You might hear people telling you that all you have to do is boot up into KNOPPIX and delete the password file but deleting a file on an NTFS partition involves writing to it.
Microsoft have failed to make NTFS an open standard so nobody outside of Redmond really knows how to write to it 100 per cent safely. However, it is safe to read from it.
There is a bootable CD ISO that you can download called 'Ophcrack' from Objectif SÚcuritÚ (ophcrack.sourceforge.net). Burn a copy to a CD, load it into the computer in question and boot it up - it is a cut-down version of SLAX so it won't write to any disc.
Ophcrack will load automatically, locate the password files and start work.
Note that this is also compatible with Windows Vista password files.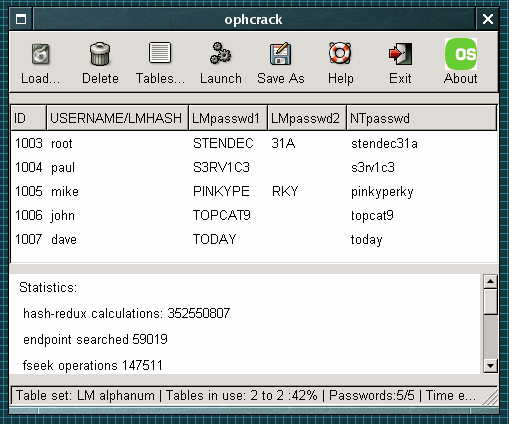 Ophcrack starts off with the LanManager hashes, using various strategies, covering around 99.95 per cent of all alphanumeric passwords (80,603,140,212) but because of a design error in the way that LanManager works with passwords - it's case-insensitive and creates two hashes from passwords longer than 7 characters - these 158,967,304,308 hashes are equivalent to 6,496,866,212,035,331,404,944 passwords of length 1..14 (but only using upper case letters - if you had lowercase letters as well, they are equivalent to 12,605,077,130,307,650,304,141,546 passwords).

The LanManager passwords are the two hashes of the first 7 characters and the last 7 (depending upon the length of course). So if you had the password 'PinKyPerKy', you would end up with two password hashes, based on 'PINKYPE' and 'RKY'. You would also get the same LanManager password hashes if you used 'pinkyperky' or 'pInKyPeRkY' and so on.

So, all you have to do is store the hashes for 1 to 7 character passwords, but only of one case for the letters of the alphabet. Once you have the results from the hashes for the LanManager passwords, (in our example, it would be 'PINKYPE' and 'RKY', we just have to do a binary case adjustment until we get the same password for the NT password (which is case sensitive).

So, we would try:
pinkyperky
pinkyperkY
pinkyperKy
pinkyperKY
pinkypeRky
pinkypeRkY
pinkypeRKy
pinkypeRKY
pinkypErky
pinkypErkY
... and so on, right through to...
PINKEYPErkY
PINKEYPErKy
PINKEYPErKY
PINKEYPERky
PINKEYPERkY
PINKEYPERKy
PINKEYPERKY
Their is a saying that 'if you lose your keys at night, only look under the lap posts'. It effectively says look in the places you are most likely to find something - saving the more difficult places until last. Recovering your lost password is a little like this. People are unlikely to choose 'Y2,d94PsD2', they are more likely to choose 'j3nny6' or 'Yell0wD0g'.
Taking into account the fact that many people only use letters of the alphabet in their passwords, they are the tables used first when trying to recover the passwords. Next, people will tend to add numbers to the letters. Sometimes, they will substitute letters for numbers so an 's' becomes a '5' and a 'b' becomes a '6' and so on. Some password recovery programs look for this as a separate exercise although ophcrack doesn't. Finally, hashes created using all alphanumeric and punctuation characters are compared.
Some systems will not have the LanManager passwords turned on and so the only place left to try is the NT Passwords. These not only have the numbers, punctuation characters and uppercase letters in, they also have lower case letters. You can download this file and use ophcrack to break them.
Of course, this tool - like every security tool - is a double edged sword and can be used to crack people's passwords in a dishonest fashion. By looking at the way it is done for an honest scenario (I have used it to recover the admin password from a friend's laptop), you can see how to make your passwords more secure (don't allow the LanManager to store hashes; use long passwords; use alphanumeric, upper and lowercase, punctuation characters). However, by making it more difficult for the dishonest user, you are making it more difficult for yourself when you need it. The best way of keeping your passwords safe is to keep the machine physically safe and to make sure that any server on it is well patched and configured in a secure manner.
Ophcrack is reasonably quick - it is based upon a time/memory trade-off using rainbow tables which is a new variant of Hellman's but with better performance - the example in the screenshot above taking around 15 minutes.
Now knowing the password, there is no need to write anything to the disc and you have avoided having to explain to other users why their accounts don't have a password any more. If the LanManager passwords haven't been enabled, you will need to download the full NT hash database file.