Test Your Own Broadband Connection Speed
You can test the responsiveness of your ISP's web server just by pinging it. However, if you are paying for a particular bandwidth, how do you know if you are getting it?
Some of the download programs such as those run under various web browsers will tell you how fast a file is currently downloading but the big drawback of that is that you have to be at a browser, downloading a file in order to see how fast the connection is. If you want to know how fast your connection is at all times of the day, you need to be able to do a number of things:
use a server with a fast connection to your machine so that the only bottle neck is the one that your ISP puts in your broadband modem;
be online all of the day;
run a monitoring program that collects your data all of the time; and,
run another program that processes the database that you have created with your monitoring program.
So, first of all, upload a large(ish) file - maybe around 500kB - to your ISP's web server. This will give your monitoring program enough of a chance to get a stable reading during the process. The first law of analysis is that an inadequate sample cannot give meaningful results.
Next, you need to install Perl and the GD library. On Linux/BSD/UNIX systems, this should be part of the distribution (certainly Perl itself is) but if you cannot find the GD library, you can install it from CPAN. If you find that you cannot get GD for your system you can always tweak the program so that it outputs a graph in the form of an HTML page. Also, you need to install WGET - again, this should be part of your distribution or you can download it from the Internet. All of these work on Linux and should work on Windows.
After that, click here to open the directory with the files in it in another browser window.
Create a directory in your home directory and copy the files from the /home directory in the browser window into your new directory.
Create a directory in your server directory (possibly called 'bbspeed' or similar) and copy the files from the /server directory into that. In your server config file (httpd.conf or similar) you might want to make that directory password protected or even put it in another directory (one that is not within the confines of the server root) if you aren't going to need to look at it from anywhere other than the local machine.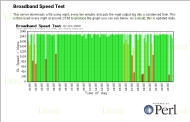 Next, open the Perl script files and edit any paths that need it, to the ones that you have on your machine (really, just where you have put these files) and then there is only one thing left to do.
Finally, open up the crontab file in /etc and copy the lines from the /crontabfrag/crontab.frag file into it - changing any paths as required. If you have done everything correctly, you should get a picture like the one on the right (click on it to open it in a new browser window/tab).