Killing windows
If you sometimes get a window that won't die, you can kill it off by using things other than the little 'X' button that is usually in the top right of the Window, on the title bar.
If you don't know, from the command line, you can grep a list of processes for a process (here, hypothetically called 'progname') by name by entering ...
ps aux | grep progname
... or, more concisely by using the dedicated function pgrep like so ...
pgrep progname
... which will give you a list of PIDs from which you can choose one to kill.
Alternatively, if you have a process that is gobbling up processor time, you can see it by using 'top' which will display the process list according to how much processor time the programs are using.
Pressing 'K' will freeze the list and allow you to kill the process by typing in its PID.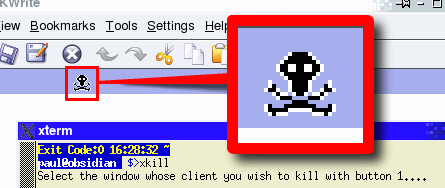 However, if a program has multiple windows or you have several copies of the same program running, there is a more explicit way of doing this.
At the command line, type 'xkill' and the mouse will change to the skull and crossbones, allowing you to click on the offending window and kill that program.
The only thing that can go wrong is that the program terminates itself and the window disappears before you have a chance to kill it thus leaving you with an armed and dangerous mouse that will kill the first thing it clicks on. If you think this might happen, you can always open up another window beforehand (such as a terminal or text editor) so that you can click on that if necessary.