Server-Side Includes
Server-Side Includes (SSIs) allow you to have dynamic content in your web pages without having to go to the length of producing pages that are made up entirely of program-generated html code. Whilst CGI (Common Gateway Interface) scripts are an effective way of processing forms and other user input, they are something of a sledgehammer of a way of doing things. For SSIs, a walnut sized problem, you do not need such a sledgehammer.
In effect, SSIs allow you to have a normal html file but include within it, a reference that the server will see and then process. In the final output, the reference is replaced completely so the user will not be aware of the existence of SSI code in the original html file.
To get the server to read through the file (parse it), we need to let it know that it needs parsing. There are two ways of doing this:
Use a special file extension such as .shtml; or,
Set a meta-data bit on the file.
Apache supports both of these. It is better to use the normal file extensions because:
The end user will not be aware that they are getting the opportunity to run a program on your server; and,
Any file that you decide to add SSI code to will not need to have its file extension changed (easy) or have every page that refers to it changed so that the new reference has the new extension (difficult).
To get Apache to use normal (.html) file extensions, you need to set the executable bit on the file so that the file is executable. Unfortunately, Windows doesn't recognise files by their content, only by their extension so you cannot do this on Windows.
Linux, *BSD et al
However, on Linux (et al), you can modify the x-bit simply by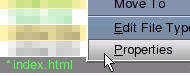 right-clicking on the file and selecting properties...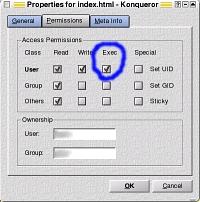 ... then, making sure that the exec bit is checked.
Windows
On Windows, you can only change the file extension to .shtml
Configuration file
General
In order to make SSIs work, you need to have directives in the httpd.conf file that reads...
LoadModule includes_module /usr/lib/apache/mod_include.so
.. and also a line like ...
AddModule mod_include.c
.shtml (Windows, Linux, *BSD, UNIX...)
To get Apache to read .shtml files, you need to have a couple of lines in httpd.conf as follows...
AddType text/html .shtml
... which adds .shtml to the list of file extensions that are to be considered fair game for the server, and...
AddHandler server-parsed .shtml
... which tells Apache that .shtml files need to be scanned through for SSI code instead of just being copied to the client's browser.
x-bit (Linux, *BSD, UNIX...)
To get Apache to search through normal .html files that have the exec bit turned on, you need a line in the httpd.conf file that looks like...
<IfModule mod_include.c>
  XBitHack on
</IfModule>
Apache will now parse .html files with the x-bit on.
Just before we leave the httpd.conf file, there are still one or two things we can do with it that are related to SSIs.
We can add a line that look at the browser and, dependent upon the type of browser, set various variables. This is done by having a line that looks like...
BrowserMatchNoCase MSIE IE
...which looks for the string 'MSIE' in the browser information that the browser sends Apache. As the name suggests, it is case-independent. If it finds the string, it sets the variable 'IE'. You can, of course, look for other sub-strings such as Gecko, Firefox, Links and so on and have any number of variables. We can use these variables in the SSI code as follows...