Hidden codes
If you run a server, you should look through your server logs at regular intervals anyway but sometimes you might find peculiar strings like '//cgi-bin/..%25%35%63..%25%35%63' and so on.
These are usually strings generated by people - usually known disrespectfully as a 'Script-Kiddies' - running a script to try to break into your system. You often find that these 'people' (for want of a better word) will get to your site via some link or other (if you store your logs in combined log format, the referrer will be logged as well) and then a few seconds or minutes later, that same IP address will send maybe a dozen requests per second - all of them different - trying out various hacks.
These attacks on your system are genuine. They are all things that work on somebody's server or they are extrapolated from such attacks. However, instead of somebody with a knowledge of how systems work, trying to break into your system, it is some kid (or somebody with the mental age of a kid) just running a script.
These lists of attacks are added to by genuine, black-hat hackers, who know that by giving these Internet Noddys something that might work, they can create enough background noise to hide what they are up to. Script kiddies might think that they are up to having a laugh and possibly even getting away with a little bit of knowledge but really, they are aiding and abetting real criminals.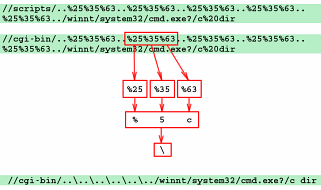 The hack on the right is based on ASCII codes for characters that normally are either not permitted in http addresses or, as they are here, being hidden so that any program that does the conversion once, will still not see what is intended.
Normally a two-digit hex value preceded by a per cent sign will be converted to the ASCII equivalent and if it is not permitted, filtered out. Here, they have made sure that when this is done once, there is still a hex preceded by a per cent sign.
In this case, '%25' turns into '%' and the other two values form hexadecimal characters. So, '%25%35%63' forms '%5c' which, when transformed again, forms a backslash which, on DOS/Windows system, is a directory path delimiter.
So, '//cgi-bin/..%25%35%63..%25%35%63' becomes '//cgi-bin/..\..\' and as double-dot is the parent directory, they are attacking the server by specifying a valid directory then hoping to work their way back up the directory tree, out of the 'server root' and into the rest of the file system.
You can see from the diagram that they intend to test out the hack by getting a directory listing.
This is a Windows-specific hack. Make sure your system is up to date or use a more secure OS (possibly a server OS such as UNIX, Linux, OpenBSD...).